Slotted shims are used for shaft alignment by installing them around hold down bolts. These shims do not require disassembly of the equipment which saves you time and are made from durable stainless steel which is naturally corrosion resistant.  Shims come in standard trade sizes which are each designed for specific bolt sizes and NEMA motor parts.
Size A = 2" x 2"
For use with 1/4″ to 5/8″ hold down bolts.
NEMA motor #'s: 42, 48, 56, 143, 145, 162-169, 213-219, 1610, 1810, 2110
Size B = 3" x 3"
For use with 1/2″ to 3/4″ hold down bolts.
NEMA motor #'s: 66, 253-259, 283-289, 323-329
Size C = 4" x 4"
For use with 3/4″ to 1-1/4″ hold down bolts.
NEMA motor #'s: 203, 204, 224, 225, 363-369, 403-409, 443-449, 504-509
Size D = 5" x 5"
For use with 1″ to 1-5/8″ hold down bolts.
NEMA motor #'s: 502-509, 582-589, 681-689
The most common sizes are A – D which we keep in stock for same day shipping. Additional sizes are available upon special request. Each package comes with 20 shims that have the size and thickness etched on them. These individual packs are great when you're in a pinch and need something quick.
Typically, customers will purchase a full-sized kit to have on-hand. These kits come with thirteen thickness sizes in a metal toolbox with shim corrals to keep it organized. Shim extractors are also included to easily remove the shims from their application. Having a full-sized kit on hand prevents you from needing to run out and urgently source shims.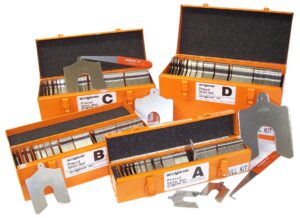 Aside from slotted shims, there's also arbor shims, shim rings, and shim stock. We've sold all these before so whatever you need, we've got you covered! Send us your specific requirements today sales@knappfast.com to get pricing and availability.