There are many styles of retaining rings which are commonly referred to as snap rings. They're typically made of stainless steel or steel with a phosphate, plain, or zinc finish. Retaining rings are installed into a groove on a shaft (external) or into a bore (internal) to keep the assembly in place. We review some of the most common types and styles below. If you don't see the style you need, let us know and we can probably source it for you!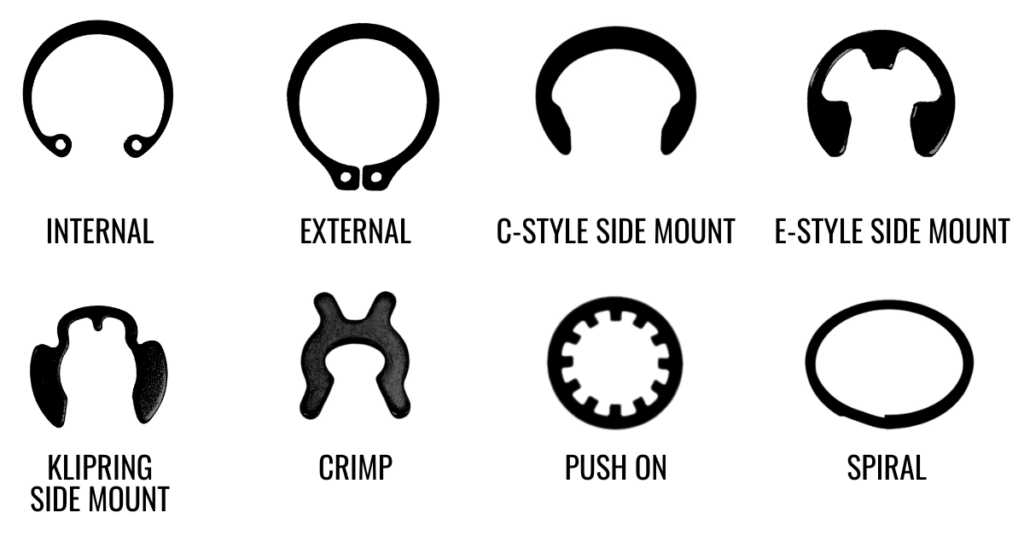 Internal Retaining Rings
These are axially assembled. To install they are squeezed into the groove in the housing/bore using pliers in the lug holes. Heavy duty versions of internal rings are available for heavier vibration resistance.
External Retaining Rings
These are also axially assembled. To install they must be opened/expanded with pliers in the lug holes, then they will snap into place. Heavy duty versions are available which are thicker for heavier vibration resistance.
Additional external types:
Side Mount Retaining Rings. These are also known as C-style crescent rings or E-style which are both radially assembled. These do not have lug holes and are used where a large shoulder is not required, and space is limited. Heavy duty versions and bowed versions are available.
Crimp Retaining Rings. Also known as x-washers which must be 'crimped' or squeezed together to be applied.
Bowed Retaining Rings
Bowed rings can come in internal or external styles. These are curved versions of standard retaining rings which act like a spring. This type of a curved design allows for a tighter hold.
Push-on Retaining Rings
This ring goes right onto the end of a shaft and is self-locking. Various styles available in internal or external. It should be used for lighter duty applications where there is no groove machined into the bore or shaft.
Spiral Retaining Rings
These axially installed rings can be single-turn or multi-turn and are wound into place to install since there is no lug. Thicker, heavy-duty versions are available.
See some of the retaining rings we have available here. If you need a different type, size, or material, let us know and we'll get started on sourcing it for you!